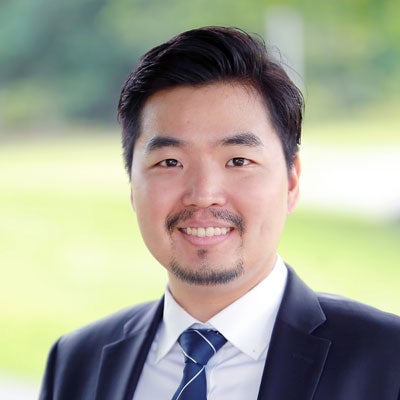 Coordinator of Voice Studies
Faculty
Smith Music Hall 208
Biography
Alexander Wook Lee
Praised by Anthony Tommasini of the New York Times for his "bright tenor voice and vitality", Tenor Alexander Wook Lee is a dynamic and accomplished young performer, conductor, and music educator in the world of opera and classical music.
Recent opera credits include role of Ferrando in Mozart's Cosį Fan Tutte, Gérald in Delibe's Lakmé, Candide in Bernstein's Candide, and Acis in Handel's Acis and Galatea. Dr. Lee was also recently seen as Eisenstein and Goro in the critically acclaimed production of Johann Strauss's Die Fledermaus and Puccini's Madama Butterfly with the prestigious Martina Arroyo Foundation for the Summer 2017 and 2016 Seasons.
A native of South Korea, Dr. Lee was a soloist with the Korea National Theater and Korean Broadcast Station, where he also worked as a staff pianist. His diverse skills also led him to the position of Sergeant with the Ministry of National Defense Band as a composer, arranger and singer. Additional concert work includes engagements with the Turkish National Symphony Orchestra and the National Korean Music Symphony. In 2009, Mr. Lee was the first place winner of the Korea Singing Competition, held in Seoul.
He is currently Assistant Professor of Voice Music and Opera Director at Marshall University in Huntington, WV as the Coordinator of Voice Studies. Dr. Lee received his Doctoral degree from Rutgers, the State University of New Jersey, master's degree from Manhattan School of Music and Bachelor's Degree at 명지대학교(Myongji University) in South Korea.