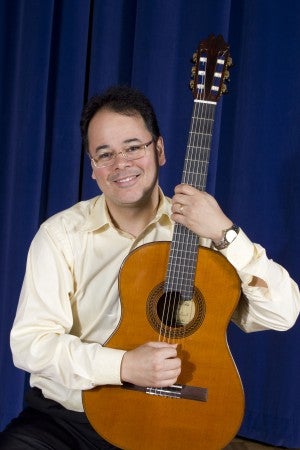 Smith Music Hall 201
304-696-6497
Biography
Dr. Júlio Ribeiro Alves earned a D.M. degree in Guitar Performance and Music Literature from Indiana University Jacobs School of Music, a M.M. degree in Guitar Performance from the Peabody Conservatory at Johns Hopkins University and a B.M. degree in Guitar Performance from the University of Brasília (UnB- Universidade de Brasília), in his native country Brazil.
At Marshall, Dr. Alves is responsible for overseeing the guitar area teaching applied lessons, guitar literature, guitar pedagogy, guitar techniques, fretboard harmony, and directing the M.U. Guitar Ensemble. Outside of the guitar area, he also teaches music styles, music theory and aural skills. He regularly performs as a solo player, as a member of the Violauta Duo, the Duo Alves, the Violautalino Trio, and in other chamber music settings. His programs feature music from various ethnicities and historical periods. In the past, he was a member of the Duo Grilo-Ribeiro, with guitarist Eustáquio Grilo, and the Duo Caesar, with guitarist Júlio de Alexandria Cruz. He has performed in diverse venues in countries such as Brazil, USA, Costa Rica, Spain, and Italy.
I consider it to be both a blessing and a great responsibility to have the opportunity to guide my students to refine their natural abilities and to develop new ones. I believe that through a musical performance, lives can be significantly touched, either generating or simply nurturing a process of immeasurable proportions which can lead us to become closer to each other, and to be more aware of our human condition. I feel this touch every time I communicate music to an audience, or when, as a listener, I get to hear someone doing it. I also firmly believe that performers can express a more meaningful message if they are able to integrate their knowledge about music theory into their instrumental skills. As a teacher, I focus on the goal of gradually making myself obsolete to my students as a result of helping them to develop their potential while at Marshall and to prepare them for the challenges they'll face in their professional lives after they graduate from our school.