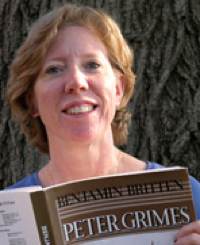 Smith Music Hall 209
304-696-6437
Biography
Vicki Stroeher is a Professor of Music History at Marshall University in Huntington, WV where she is also Coordinator of the Music History and Literature area and chapter advisor for the Delta Kappa Chapter of Delta Omicron International Music Fraternity. She earned her Ph.D. in musicology with a secondary specialization in music theory from the University of North Texas in 1994. Among her mentors are Michael Collins (UNT), Graham Phipps (UNT), Deanna Bush (UNT), A. Peter Brown (Indiana University), and Ellsworth Peterson (Southwestern University). She has taught previously at Augusta State University in Augusta, GA, Philips University in Enid, OK, and Texas Wesleyan University in Ft. Worth.
Dr. Stroeher is active in many professional organizations, including:
The North American British Music Studies Association (Treasurer, 2011-present)

The American Musicological Society (AMS Council Representative, 2007-2009)

Allegheny Chapter of the American Musicological Society (President, 2005-2007; Program Chair 2003-2005)

The Royal Musical Association

The Society for Music Theory
The songs of English composer Benjamin Britten and text setting are her research passions, and she has presented papers on these topics to the Royal Musical Association, the Modern Languages Association, the North American British Music Studies Association, the International Conference on Music Since 1900 (held in the UK), the Kentucky Foreign Languages Conference, and various regional chapters of the AMS.
Her most recent presentations include the 2013 "Britten on Stage and Screen" conference in Nottingham, the 2012 North American British Music Studies Association Conference, the "Literary Britten" conference held at Girton College, Cambridge University in September 2011, and the "Britten in Context" conference in Liverpool Hope University in 2010. In 1998 she was awarded a University System of Georgia Grant to conduct research at the Britten-Pears Library in Aldeburgh, She is a co-organizer of the "Benjamin Britten at 100: An American Centenary Celebration," held on the campus of Illinois State University, October 25-27, 2013.
Her current publications include a forthcoming chapter on Britten's discursive use of monotone for Literary Britten, edited by Kate Kennedy, Cambridge University (to be published by Oxford University Press). She is also co-editor with Nicholas Clark and Jude Brimmer of A Life of the Two of Us: The Correspondence of Benjamin Britten and Peter Pears, 1937-1976, forthcoming.
In addition to cycling and hiking with her husband, Stroeher loves to spend time with her two dogs, Maggie and Nellie and cat, Snowshoe. She is married to Marshall music professor and trombonist, Michael Stroeher. Their favorite place to be, other than West Virginia, is Aldeburgh, Suffolk, UK.
Courses Taught:
Undergraduate
Music History to 1750 (MUS 290)
Music History ca. 1730-1900 (MUS 360)
Music History after 1900 (MUS 361)
Research in Music (MUS 401)
Styles (MUS 304)
Graduate
Introduction to Musicology (MUS 612)
Music of the Renaissance (MUS 652)
Music of the Classical Era (MUS 653)
Music of the Romantic Era (MUS 654)
Music ca. 1900 to the Present (MUS 655)
Music Research Methods  (MUS 621)
Seminar in Teaching Music Appreciation (MUS 614)
Why Benjamin Britten?*
Not long ago, a student interested in pursuing a graduate degree in musicology asked me: "Why Britten?" I resisted the urge to retort back, "Why not?" and instead used the opportunity to reflect back on my history with this man whom I have never met in person, but who occupies a major portion of my life, sometimes even overshadowing the quite alive members of my family in his demands for attention. The truth is, Britten has "haunted" me since my first semester of college, first, when a group of female music majors gave a brilliant performance of Britten's Ceremony of Carols in the chapel – I had never actually seen a harp up close, and second when scholar Anthony Milner, then of Goldsmith's College, University of London, presented a lecture on Britten's Curlew River. Milner's lecture fed all that was sacred and inspired curiosity in me: England, Englishness, British music, and, opera, although being from a quite rural area I had never actually seen one, live or otherwise. Little did I know that these two encounters would mark the beginning of a long association with Britten and music, both in performance and in scholarship. Since those early days, I have performed in countless presentations of Britten's choral works, including his incredible War Requiem – a journey I will never forget – given talks and written countless papers about him and his music.
But, Britten's having haunted me does not really get to the heart of my student's question: "Why Britten?" In other words, who is he to have so captured a mind and a heart?
For one thing, the story of Britten the man holds especial appeal. Like Mozart, he began composing at very early age, arranging notes on the page because of the way they looked and then later, when notation had been nearly conquered, writing music to mark the great events in his young life. How many youngsters would even think to document their father's trip to London with a song: "Do you no that my Daddy has gone to London?" When he was older, a family friend asked him what he wanted to be when he grew up. He replied, "A composer," and the friend pressed, "Yes, but what else?" From that moment forward, Britten's mind was set – a composer he would become, and a very good one, too.
He cut his teeth with composition lessons with Frank Bridge and then John Ireland at the Royal College of Music. From there, he plied his trade working for the Government Post Office Film Unit supplying music for documentary films, an undertaking that allowed him to hone his technical facility. When the prospect of war began to tear at England, Britten came to understand that he was a pacifist and that he could never harm another human being, especially in battle. His job as a human being was to write music for humans to play and sing and enjoy, and from which they could learn about the ways and injustices of this world. For this reason, among others, he came to America, where war was, as yet, far away.
While in America, he discovered his Englishness, and that led him to return home to face the ravages of the war and declare his desire to register as a conscientious objector, a move that could have landed him in jail as it had close friend Michael Tippett. Instead, he and Peter Pears were directed to give recitals as their war work, bringing the joy of music to those most affected by the war.
One of the most compelling stories about Britten is one that resonates with my own family lore. My father, who was born just a few months before Britten in 1913, spent World War II in the reconnaissance unit of a tank destroyer battalion. After the war, so the story goes, he did not have enough points to come home, so he was posted to Germany, where he helped in the liberation of the concentration camps. My father died when I was very young, and so I've always been drawn to anything related to WWII in order to feel closer to him; thus anything having to do with Britten's relationship to the war has always caught my attention. Imagine my delight when I found that, Britten, who was an extraordinary pianist, accompanied Yehudi Menuhin as he played for the inmates of various concentration camps after the war. When he returned home, Britten was ill with a high fever from the inoculations he received to be able to go: on his sick bed, he wrote some of the most gut-wrenching and soul-searching music to be had, his song cycle, the Holy Sonnets of John Donne. He takes you from the blackness of a soul that has reached its lowest point to the quiet and confident resolution of one, who through his faith, has overcome death. Nearly every work of Britten's – as you hear them for the first time – gives you the sensation that you are embarking on a life-changing journey. Such is true of the Donne Sonnets, of Peter Grimes, Death in Venice, and of none more so, perhaps, than the War Requiem.
Britten has this uncanny ability to get to the heart of the matter of a text or story – and trying to find out how this is so is what appeals to me as a scholar. For, he sees quite clearly the human-ness of the character whose story he tells or the poet whose texts he sets, and he relates that human-ness in his music, expressing with it the very qualities that make us all human, from our innocence to our arrogance to our passion and our coldness. As a result, in the music we hear and feel the governess's determination as she rides by carriage to the manor house in The Turn of the Screw; we immediately understand the moral turpitude of Lady Billows in Albert Herring; we are made to empathize with the desolation that is the Chimney Sweeper's existence as he cries "'weep, 'weep" in the Songs and Proverbs of William Blake; and we experience catharsis with the soldier in the War Requiem as he greets the man who ended his life: "I am the enemy you killed, my friend." If everyone in the world were to hear that simple, unaccompanied utterance, war, gun violence, and anger would all be vanquished.
I will inevitably be asked again, "Why Britten?" I do not know if I will ever be able articulate in whole what sway he holds over me; instead, and because he has helped shape who I am as a human being – from my career to my humanity, I think I must answer the question: "Who else?"
---
* This essay is published in the Benjamin Britten at 100: An American Centenary Symposium Programme Book, Illinois State University, 2013.