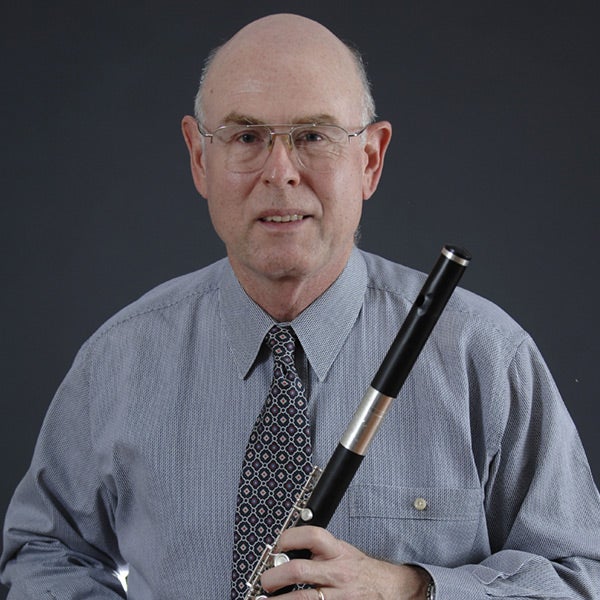 Smith Music Hall 207
304-696-2359
Biography
Dr. Wendell Dobbs performs regularly in solo and chamber venues, in a variety of settings ranging from the Huntington Symphony Orchestra and the Ohio Valley Symphony (principal flute in both) to Blackbirds and Thrushes, a Celtic band. During a seven-year stint as flutist in the United States Army Band (Pershing's Own) in Washington, D.C., Dr. Dobbs received two Certificates of Achievement for contributions as soloist and principal flutist of the United States Army Chamber Orchestra. He joined the Marshall University faculty in 1985 after two years in Paris as a French Government Scholar studying with Michel Debost and Alain Marion. At Marshall he received the Pan Hellenic Society's Teacher of the Year award in 1993 and was selected the John Deaver Drinko Fellow for the 2007-08 academic year. In that capacity he studied flute music in America in the early 19th century and founded the John Marshall Fife and Drum Corps.
Dr. Dobbs received his Bachelor of Music from the University of Memphis and his masters and doctorate from Catholic University in Washington, DC. During his masters and doctoral studies his principal teacher was Bernard Goldberg.
His articles regularly appear in Flute Talk; he authored a Study Guide to Rubank Selected Studies for Flute which included instructional text and CD demo recording for West Virginia's high school flutists.
He premiered Katherine Hoover's Dances and Variations for flute and harp at the Kennedy Center for the Performing Arts. Dobbs' interpretation of Dances and Variations and other works by Hoover can be heard on the critically acclaimed CD Flute & Company on the Leonarda label.
Dr. Dobbs performs on the Halsey Stevens Quintet, released on Koch International Classics CD, a disc that was selected as best pick of 1996 by Tower Record's Classical Pulse! Magazine. He premiered James Kessler's Appalachian Folksong Suite for flute and orchestra, commemorating the 25th anniversary of the Huntington Chamber Orchestra. In spring, 1999 he premiered Paul W. Whear's Celtic Concerto and in fall, 2003 Scott Michal's Concerto for flute and orchestra both with the Huntington Symphony Orchestra. With colleague Kay Wildman he provided the music for Marshall University and Motion Masters documentary on the life of Supreme Court Chief Justice John Marshall. He followed that project up with a CD recording entitled Rallying Round Our Liberty, devoted to American flute music and songs from John Marshall's era. On these two projects he performs on the historically accurate 8-key simple system flute of the 19th century. He spins Irish traditional jigs and reels as a member of Blackbirds and Thrushes on two CDs, Calamity Nights and New Heights and regularly performs with his colleague, guitarist Júlio Alves in the Violauta Duo.