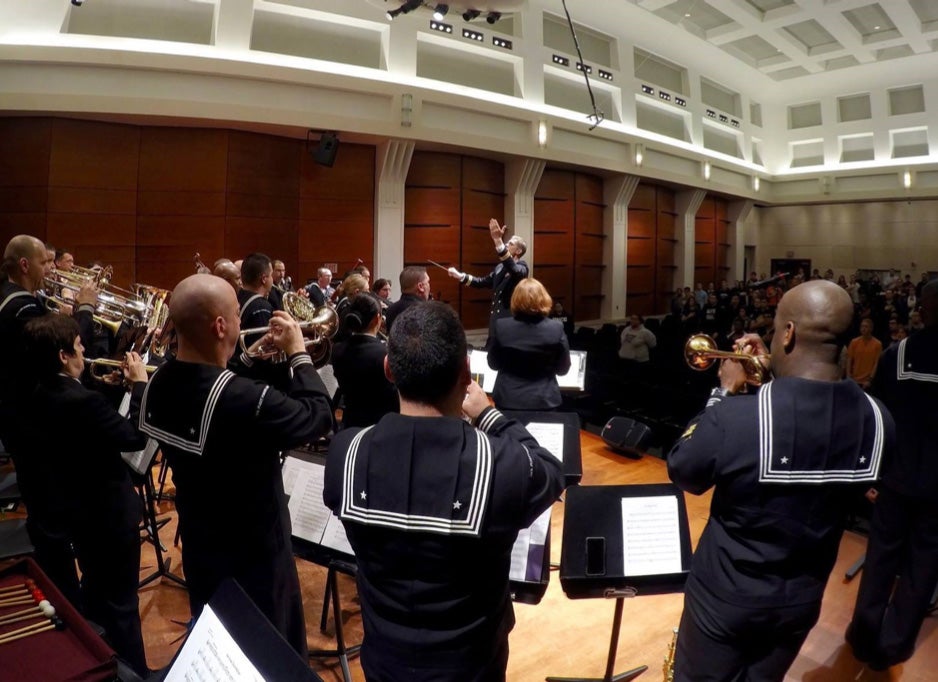 The U.S. Fleet Forces Wind Ensemble, under the direction of Lt. Robert J. Coats, will perform at Marshall University's Smith Recital Hall on Sunday, Sept. 25, at 3 p.m.
The concert by the largest of the U.S. Fleet Forces Band's performing units is free and open to the public. The wind ensemble's repertoire ranges from traditional military marches and patriotic favorites to the finest works found in the wind band literature.
Established in 1945 as the Atlantic Fleet Band, the United States Fleet Forces Band serves as the Navy's musical ambassador for Commander, U.S. Fleet Forces Command. The band is composed of active-duty Navy musicians who perform in a variety of ensembles including the Wind Ensemble, Ceremonial and Parade Band, the popular music group "Four Star Edition," the brass band "Navigators" and several other chamber ensembles.
The U.S. Fleet Forces Band performs nearly 600 engagements annually. Its mission is to provide musical support for the U.S. Navy afloat and ashore, support Navy recruiting, inspire patriotism, elevate esprit de corps and pride in the Naval Service, and enhance community awareness and public relations events at home and abroad. The "Finest in the Fleet" plays for audiences totaling in the millions every year.
For more information on U.S. Fleet Forces Band public performances, like them on Facebook at U.S. Fleet Forces Band. For more information about this performance, contact Coats at ops.fleetforcesband@navy.milor Brian O. Walden, Marshall's director of bands, at waldenb@marshall.edu.