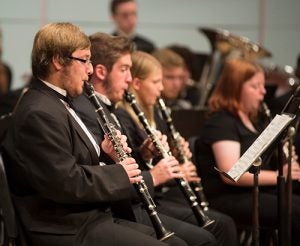 Marshall University's School of Music has announced the upcoming concert season of its Wind Symphony, which will revolve around the theme, "Music for Social Change."
The first concert, planned for 7:30 p.m. Thursday, Sept. 27, will feature pieces from all female composers, including Alex Shapiro's "Tight Squeeze," which utilizes pre-recorded electronics with the live acoustic band, and "Tocata and La Tumba de Alejandro Carcia Caturla" by Shelley Hanson, a fresh take on traditional Latin music. Its first movement features the entire ensemble acting as percussionists.
Other numbers include "An Introduction to the Moon" by Libby Larsen, which has performers improvising over a spoken poem, and "In My Father's Eyes" by Julie Giroux, written in memory of the 1963 Birmingham, Alabama, church bombing and which features a children's choir and solo cellist. The School of Music will team up with the Women's Studies program, which will offer additional readings, as well as resources for women.
The second concert, at 7:30 p.m. Thursday, Nov. 29, will be the world premiere of a piece by renowned composer Tyler S. Grant, written specifically for Marshall University. The "Music for Social Change" theme will continue with David Maslanka's epic piece, "Hymn for World Peace."
Second-semester concerts begin Feb. 15 with a performance for the High School Honor Band and continue the theme as well, by adding new works such as "Harvest: Trombone Concerto" by John Mackey with soloist Dr. Michael Stroeher.  The concert season will conclude May 2 with "there are no words" by Jim Stephenson, written in response to the 2015 church shooting in Charleston, South Carolina.
"This profound and emotional work must be experienced in person," said Dr. Adam F. Dalton, who conducts the band. "The yearlong theme is to bring awareness to current and past events as a way to remember the lost and celebrate life.
"Music has a way of cleansing the soul and expressing emotions that can't be expressed in words," Dalton said. "These pieces of music will challenge the performers both technically but also emotionally. Audiences will be treated to a variety of styles and approaches to wind band and will feature performances by performers you don't typically see at a band concert."
The music will be performed by the Marshall Wind Symphony, the top concert band composed of students from the Huntington campus. Members audition each semester for entry.
Concerts are free and performed in Smith Recital Hall. For more information on these and all of the other performances from the School of Music, visit www.marshall.edu/music.