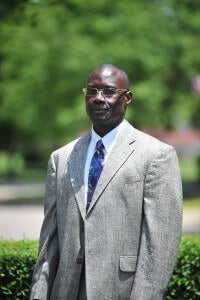 Richard U. Agesa, professor of economics, has been selected as the Elizabeth McDowell Lewis Endowed Chair. The Endowed Chair was bestowed on Professor Agesa based on his sustained research in quality nationally and internationally recognized economic s journals, his passion for teaching, and his dedication to service in the Lewis College of Business and Marshall University.
"I am honored and humbled to be a recipient of this Endowed Chair position. The position has endless possibilities and opportunities. I am excited about the high expectations, responsibilities, and challenges that lie ahead. I look forward to providing leadership and mentorship in research, teaching, and service. I also look forward to being a catalyst for change especially during this period as we implement the Lewis College of Business strategic plan that relies on three basic themes: ENGAGEMENT with students, staff, faculty and with the business community; INNOVATION in research, teaching, and interaction with the business community; and IMPACT on students, the business community, and on the tristate economy and beyond."
Professor Agesa received his PhD in economics from the University of Wisconsin-Milwaukee.  He has been teaching in the Lewis College of Business for the last 15 years. He has teaching and research interests in applied microeconometrics and developmental economics. Professor Agesa has published in top-rated economics journals such as the American Economic Review, Economic Development and Cultural Change,and the Journal of Development Studies.  He is the 2010-2011 recipient of Marshall University's Distinguished Artists and Scholars Award (DASA), recognized for his substantial quality research. He has received research and teaching awards from the Lewis College of Business as well.  A 2002 article ranked Professor Agesa as among the top 20 publishing African-American economists in the nation.
Recent Releases