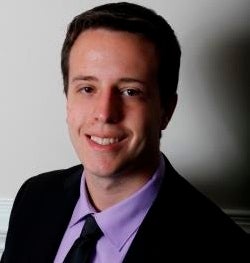 Travis Donahoe, a Marshall University senior who is double majoring in Management and Public Health, has been named as an alternate for the Gates Cambridge scholarship. The scholarship is highly competitive and offers winners the opportunity to pursue their graduate degree at the University of Cambridge, along with access to a prestigious alumni network.
Travis, originally from Huntington, WV, is a member and former president of Alpha Kappa Psi, Marshall's professional, honorary business fraternity, and has been involved with Faith in Action (River Cities) in the past. He also currently works as for Marshall University's Center for Business & Economic Research. A member of the Honors College, he also has frequently worked as a research assistant with Marshall faculty Dr. Monika Sawhney and Dr. Rishav Bista on projects related to public health in Appalachia. His graduate school plans involve researching the epidemiology of chronic diseases in Sub-Saharan Africa, through which he hopes to explore risk factors for chronic diseases in local communities so as to better inform preventative interventions and policy decisions.
In addition to being named as the first alternate for the Gates Cambridge from Marshall University, Travis is the first Marshall University student to make it to the finalist stage of Gates Cambridge, which involved him interviewing in Seattle, Washington in late January. The trip was made possible with the help of funds from the Lewis College of Business dean's office and from funds provided by the Honors College.
Throughout the process, Travis worked closely with the Marshall University Office of National Scholarships and its Program Manager, Mallory Carpenter, on his application and interview technique.  He also worked with Dr. Sawhney on interview preparation and Dr. Bista on his personal letter. He was selected as a finalist by academics at Cambridge and the Gates Foundation from 826 initial applicants. Of that original number, 86 were invited to interview at the Gates Foundation as finalists, and 35 were offered the award. The scholarship is awarded on the basis of academic merit, leadership potential, and a commitment to improving the lives of others.
For more information, please contact Mallory Carpenter at Mallory.carpenter@marshall.edu or (304) 696-2475.