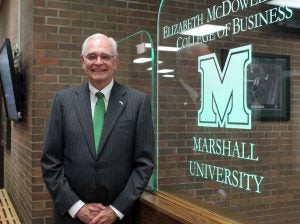 HUNTINGTON – Some of the most noted alumni from Marshall University graduated from its Lewis College of Business.
Intuit CEO Brad Smith and Verna Gibson, who was the first woman to be the CEO of a Fortune 500 company, The Limited, both are West Virginia natives and graduates of Marshall's College of Business.
Smith and Gibson both also have become renowned locally for their willingness to support local efforts to repair, restore and otherwise promote growth and education in the state in addition to their professional duties.
It's those local connections and success stories that Marshall and College of Business officials are looking to reinforce among the more than 1,500 students in the College of Business and its roughly 12,000 active alumni in an effort to increase the prominence of the school and benefit students in business and academic settings.
Since being named interim dean of the College of Business in June, Robert "Bob" Simpson has said his goal is to make sure the college doesn't lose any momentum in reintroducing the school's success and tradition in an effort to restore prominence back to the college.
"We want to refresh ourselves and continue to develop our connections with the business community in Huntington and the region," Simpson said in a recent interview with The Herald-Dispatch. "We think that's a win-win proposition for the business community and our students. I think we're very fortunate to be located in an area that provides substantial experiential learning opportunities. That's something we want to take full advantage of for our students."
Simpson replaced Haiyang Chen, who returned to a faculty position in the college's Department of Finance and Economics. A national search for a permanent replacement will take place this fall, university officials said.
Simpson is familiar with the opportunities in the area as well as the importance of keeping those hometown bonds strong.
Simpson grew up in Charleston, and he said he learned his lesson about leaving the Mountain State for too long when he earned his bachelor's degree in accounting from Miami University in Miami, Ohio, and his master's degree in business administration from Ohio State University.
"I thought when I grew up, I'd not live in West Virginia," Simpson said. "But I learned there is something special about living in West Virginia, and when I got away from here I began to see that more clearly. West Virginians are very genuine people, and you can build very rich relationships with people here that are a little different than other places."
In business, relationships are key, and Simpson began to use them when he co-founded a CPA firm in Charleston in 1974, which later merged into the firm Dixon Hughes Goodman, LLP. Before becoming interim dean, Simpson was an accounting instructor at the College of Business.
Re-establishing and strengthening alumni relations has become a key component of marketing Marshall, and better telling the university's story has become a top priority for Marshall President Jerome Gilbert since his arrival at the university in January.
"The president wants to reinvigorate the College of Business," Simpson said. "He wants to increase enrollment at Marshall, and he sees considerable opportunities and possibilities for the College of Business, so that's the course we're on."
Retelling that story and telling it louder has become a task for administrators, faculty, alumni and students alike, and Simpson is eager to tell the rich story of the College of Business. That story includes the fact that it's accredited by the Association to Advance Collegiate Schools of Business, in which just 1 percent of the 13,000 business education programs in the world are accredited, according to the College of Business website.
"If you were to sum up my role right now, it's refreshing and redeveloping those business connections with the community and alumni with a view toward helping the economic vitality of the entire region," Simpson said. "This is a relationship-based university. We understand we're a community, and I think once students get a feel for that, it really becomes part of who they are."
In the process of reconnecting with businesses and alumni, Simpson said the ultimate goal was to use the school's prominence to benefit its students.
Simpson gave an example of that process in action through the college's interview series called Passing the Leadership Baton. In it, Lewis College of Business students interview alumni about the paths that led them to their current success.
In July, students from the college were flown to California to interview Brad Smith, who after graduating from Ceredo-Kenova High School attended Marshall and later earned his master's degree in business administration from Aquinas College in Michigan. Smith also most recently donated $500,000 to flood relief efforts in West Virginia, and last year he donated $100,000 to the effort to restore the C-K Alumni Gym, formerly the Wonderdome and gymnasium at CKHS, the site of which will be the new home of Ceredo-Kenova Elementary School at the start of the 2017-18 school year.
"With the things Brad's done, it shows evidence of his connection with the community," Simpson said. "The whole idea that we are in this together and we can work together is a very powerful part of what Marshall is and who its people are."
Simpson said when asked to do the interview, Smith not only agreed to talk with the students, but he also offered to set up meetings with anyone else in Intuit the students wanted to meet.
"That's a once-in-a-career kind of thing to spend time with somebody like that and get that kind of insight," Simpson said. "It demonstrates the interest our alumni have in helping Marshall students and the eagerness students have for that kind of relationship. We can't send everyone to see Brad Smith, but that's the kind of exposure and connection we want."