2017 Design for Delight (D4D) Innovation Challenge

---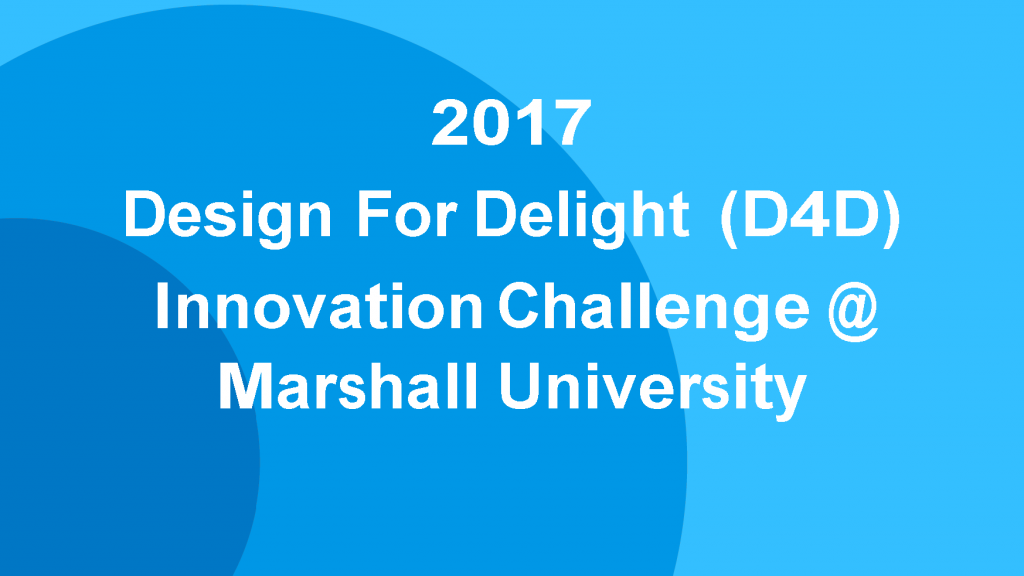 What is the 2017 D4D Innovation Challenge?
An immersive learning experience based on innovation principles from Intuit, delivered as a training followed by a team competition judged by Intuit executives and world leaders.
Intuit Innovation Experts will train students on the D4D process currently being taught to Intuit employees
Intuit Innovation Experts serve as team advisors through independent experimentation process
Intuit CEO Award Winners help teams prep for final presentation
Teams present to panel of judges including Intuit Executives
Attendees will learn:
The technique and mindsets required to develop new ideas
Individual skills required to develop new innovative ideas
Tools needed to gain deep empathy for target audience
How to reduce the risk associated with innovative ideas
How to move quickly with little resources
How to compose and tell a compelling innovation storyline
At-a-Glance: How does it work?
Each college may nominate up to 6 students and 2 faculty members to attend the program
Students and faculty will be organized into 7 teams at the D4D Bootcamp
During the D4D Bootcamp each team will choose one of the pre-set "grand challenges" for which they will create a potential solution
Following the D4D Bootcamp each team applies the tools they learned and explores their potential solution
Teams come back together for an afternoon event to present their solutions in front of a panel of world class leaders open to the Marshall community
2017 D4D Innovation Challenge Timeline

Student and Faculty Criteria and Application
Committed to attending ALL the following dates and times:
Friday, March 31 (11:30am – 4:00pm)
Saturday, April 1 (8:30am – 12:00pm)
Wednesday, April 26 (4:00pm – 7:00pm)
April 2 – April 26 periodically between 4-6 hours a week
| | |
| --- | --- |
| Student Criteria: | Faculty Criteria: |
| Ability to be a contributing team member while having a passion for out of the box thinking | Ability to facilitate and be liaison with Intuit Innovation Catalysts |
| Self-motivated while having a passion for problem solving | Interest in learning new innovation techniques |
| Interest in challenges facing West Virginia | Interest in challenges facing West Virginia |
| Application due Feb. 23rd | Application due Feb. 23rd |
| Click here for the Student application | Click here for the Faculty application |
D4D Bootcamp Detailed Schedule: March 31 – April 1
Day 1: 11:30am – 4:00pm
11:30 – 12: Lunch and mingle
12:00 – 1:00: Kick-off, team formation
1:00 – 3:00: Innovation skills and mindsets
3:00 – 4:00: Judging overview and how to make progress
Day 2: 8:30am – Noon
8:30 – 9: Breakfast and mingle
9:00 – 10:00:   Focusing your idea
10:00 -11:00: Creating prototypes and experiments
11:30 – 12:00: Review judging  criteria, additional resources
Independent Experimentation Detailed Schedule: April 2 – April 25
Each team will spend this time applying the skills learned in their D4D boot camp.
This process (which will be taught during the D4D boot camp) includes:
gaining empathy for real customers
exploring their ideas in more detail
creating prototypes and experiments to test ideas
Please Note: Virtually all ideas change shape and form during the process. This process is the story teams will share with judges in their final pitches.
During this 23 day window, each team makes progress on their own, with guidance by their faculty coach.
Intuit innovation experts will provide group coaching via conference calls each week. How and when these calls will be scheduled is up to each individual team.
Presentations and Final Judging: April 26
2:00 – 4:00: Working prep-session. Teams prepare for their final presentation with help from Intuit innovation experts and coaches (this is optional for teams to attend)
4:00 – 4:45: Practice session. Teams practice their pitches on Intuit Leaders. Two rounds of 10 minute practice pitches + 20 minutes of time to iterate on the pitch.
5:00 – 6:30: Teams present their final pitches to panel of judges. Teams are given 5 minutes to pitch + 5 minutes Q&A
6:45 – 7:00: Winners declared and prizes distributed (Prizes TBD)
7:00 – 8:00: After Party Celebration (Details TBD)
How Will We Select a Winner?
Selection Criteria
The winning team will be selected based on how well they apply Intuit's innovation principles to their project, as described in the Design for Delight* (D4D) training all students will receive. Criteria includes how well the team gained empathy for their target customers, the problems identified, and the solution experiments the teams run over the course of the 4 week program. Teams are encouraged to share their journey and evidence of their progress.
* Note: Additional criteria details will be provided during the training sessions.
Presentation Format
Each team will have the opportunity to present* their progress to a panel of judges, who will then rate each team based on the selection criteria. Teams will have a limited time to present, followed by optional follow-up questions from the judges.
* Note: Additional presentation instructions will be provided during the training sessions.
Common Questions
Q: What is expected of students between the D4D Bootcamp and final presentations?
A: Teams are responsible for making progress on their own, using the techniques and principles they learn during the training session. This typically includes engaging with prospective customers, running "experiments", and capturing what they learn along the way.
Q: How much time will students spend on this process?
A: Teams can spend as much or as little time as they like on their projects, depending on their schedules and availability. Teams typically spend 4-6 hours per week, but some teams may spend more time.
Q: Who are the judges?
A: The judging  panel is top secret for now, but will include Intuit's CEO, Brad Smith, as well as world class leaders
Q: How can teams get help or ask more questions?
A: Teams may ask their faculty coach for more help, and Innovation Catalysts from Intuit may also answer questions if need be. Please direct questions to: isabelle_rogner@intuit.com