Faculty Spotlight – Ben Eng

---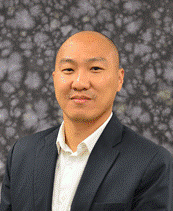 Dr. Ben Eng, Assistant Professor, Marketing
Where are you from originally and where did you attend college? What degrees did you earn?
I was born and raised in Huntington, went to undergrad at James Madison University, got my MBA here at Marshall and my Ph.D. At Southern Illinois University.
Who has influenced you the most in your life and/or career?
My parents, my high school soccer coach Sam Hood, and Marshall University Management Professor Charley Braun.
Talk briefly about your business background and training. How did you decide you wanted to be a university professor and to study Business?
I decided to be a professor through a process of elimination. I wanted to be a lawyer until I got to law school. Then I worked for a show business talent agency for 7 years. I liked marketing celebrities, but wanted a more meaningful job. Charley Bruan gave me an opportunity to teach a marketing class after my MBA and at that point I knew it was a job where I could make a difference in people's lives.
How long have you been on the faculty at Marshall and what brought you here?
I just finished my third year. I came to Marshall because it was my dream job. My parents owned a Chinese restaurant here in Huntington. It was successful because they worked hard and Huntington supported it. So I came to Marshall to pay back my parents by working hard and to support the people of Huntington by teaching them business knowledge so the city can be prosperous.
Tell me about your research interests and why you are passionate about this topic? Please list any recent publications.
I study celebrity brands. Since I worked at a talent agency that represented celebrities I wrote my dissertation on the process in which people come to care about celebrities. It's an interesting subject if you think about it – you care about your favorite celebrity but they don't even know you exist. I like figuring out how and why that happens.
What are some of the upcoming projects that you are working on?
I've worked on a lot of projects since I've been here. Probably too many to be honest. The only upcoming project I'll be working on for the next two years is trying to get tenure.
Do you have any advice for current students or prospective students?
Focus on finding ways to help people have better lives. When you find those ways, you become a valuable person. Valuable people tend to get jobs and get paid. That means you'll be in a position to help even more people have better lives which leads to an even better job and even better pay. It's a good loop to be caught in.
How do you like to spend your time outside of Marshall?
Coaching St. Joe High School's women's soccer team and being a board member of the Developmental Therapy Center.
Please list your favorite books, movies, music, and foods.
Book – Leading with the Heart by Coach K of Duke Basketball
Movie – Contact
Song – Trapeze Swinger by Iron & Wine
Food – My mom and dad's food