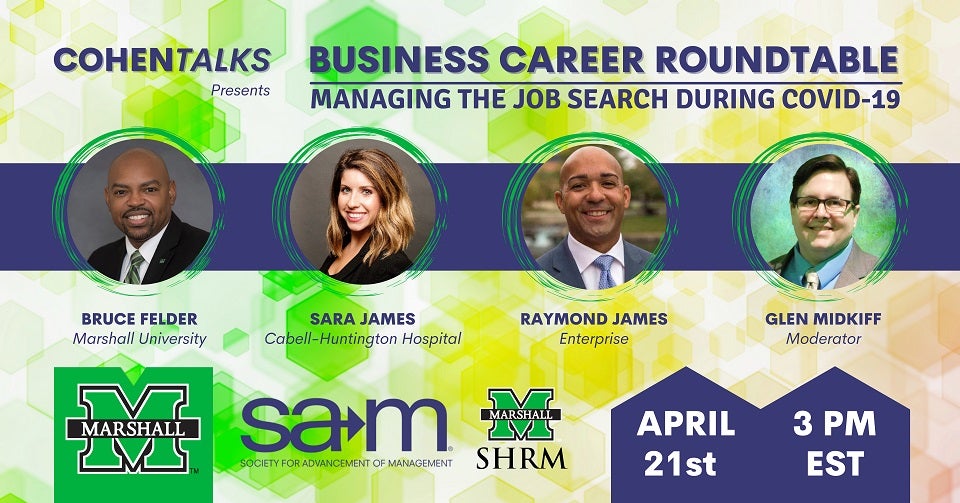 Date: April 21, 2021
Featuring: Bruce Felder, Sara James, and Raymond James
Recording: https://www.youtube.com/watch?v=vrbL3_I-W0Q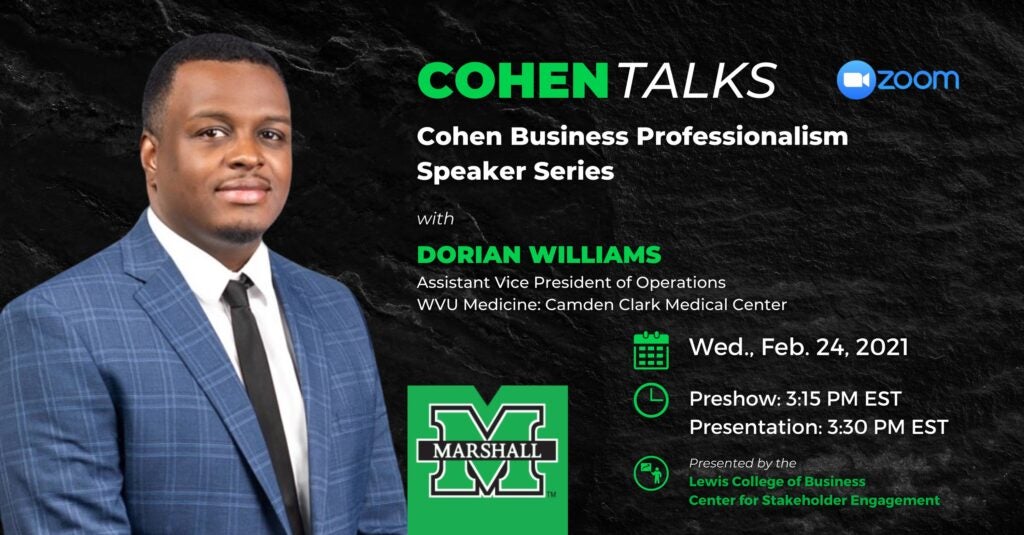 Date: February 24, 2021
Featuring: Dorian Williams, Assistant V.P. of Operations at Camden Clark Medical Center
Recording: https://www.youtube.com/watch?v=4qg3oNynqHQ
Our Speaker: Dorian Williams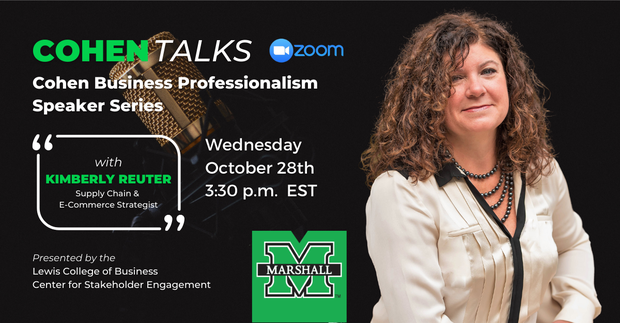 Date: October 28. 2020
Featuring: Kimberly Reuter, Supply Chain & E-Commerce Strategist
Recording:
Our Speaker: Kimberly Reuter
As the Managing Partner and Chief Consultant of CSG Consulting, Kimberly Reuter provides the strategic insights and support that help the C-Suite and other executive leaders of both Fortune 500-caliber and entrepreneurial firms define their clarity of purpose and build the scalable solutions that accelerate growth.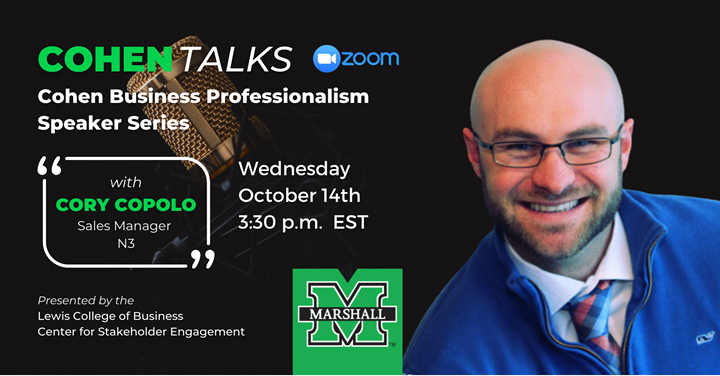 Date: October 14. 2020
Featuring: Cory Copolo, Sales Manager at N3
Recording: https://www.youtube.com/watch?v=uBP4xfv00ts&feature=youtu.be
Our Speaker: Cory Copolo
Cory Copolo is a graduate of the Marshall University Lewis College of Business (2013), matriculating with a Bachelor's degree in Management and a dual minor in Marketing and Entrepreneurship. Cory attributes his work ethic, leadership, and dedication to team-building to his experience as a dual sport athlete and two-time WVSSAC Football Stathe Champion with the Bluefield Beavers. In 2018, an opportunity to return to WV led Cory to begin a career in technology sales with N3, an outsourced inside sales firm serving elite Blue-Chip technology companies. After six-months of Sales Representative experience, Cory was promoted to the role of Sales Manager with N3, where he has served the past two years.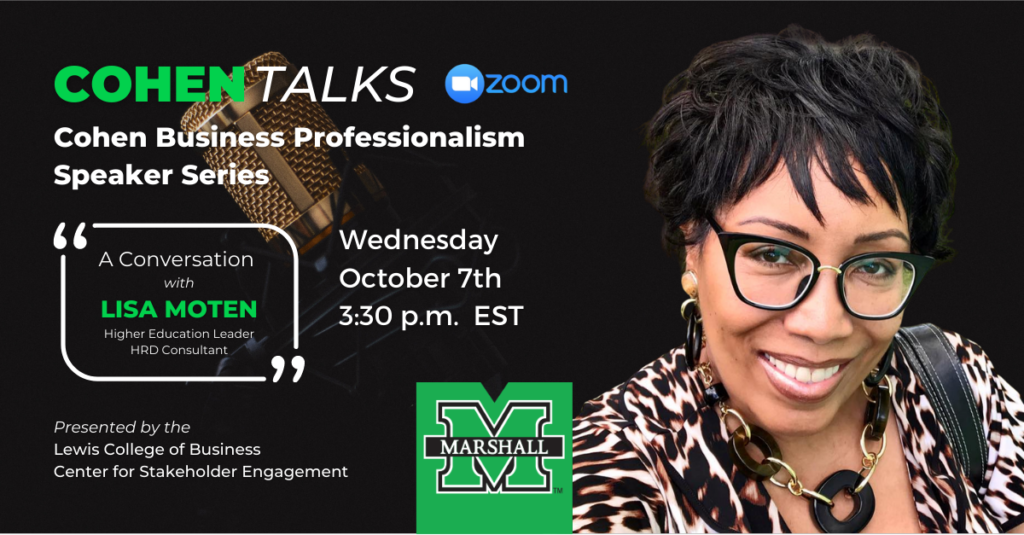 Date: October 7. 2020
Featuring: Lisa Moten, Higher Education Leader HRD Consultant
Recording: https://www.youtube.com/watch?v=1FQjzsdgpTQ&feature=youtu.be
Our Speaker: Lisa Moten
As a daughter of Marshall, Lisa Moten worked at the University for approximately 17 ½ years holding full-time positions working with students, staff and faculty in the Lewis College of Business Dean's Office, the Faculty Senate Office and serving as faculty in the College of Education and Professional Studies. She has leadership experience in both private and public higher education sectors; and, has HRD consultant experience in both state and federal government sectors. At present, she serves as the Director of the Erma Byrd Higher Education Center & Allied Health Wing working for the WV Higher Education Policy Commission. She holds graduate degrees from both Marshall University and The Ohio State University.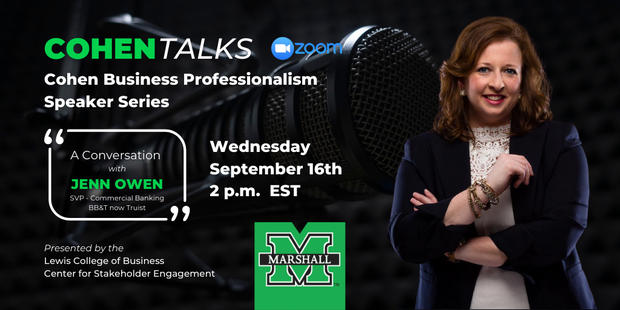 Date: September 16. 2020
Featuring: Jenn Owen SVP, Commercial banking BB&T now Truist
Topic: The Power of your Personal Brand
Recording: https://www.youtube.com/watch?v=bT8KFathqfE&t=1502s
Our Speaker: Jenn Owen
Our First Guest Speaker for this Fall Semester
Banking executive and community advocate Jenn Owen combines her passion for education, commitment to teamwork, and leadership acumen to help grow individuals and organizations.
Jenn is Senior Vice President at BB&T now Truist and has 15 years of experience in commercial finance and major gift philanthropy. She is a former Student Body President and graduate of Marshall University, where she served on the Alumni Board of Directors for 12 years and was named Distinguished Young Alumni of the Year in2019. She has held several executive banking roles and served as Director of Development at Rutgers University in New Jersey. Her passions include education, leadership development and female empowerment.