The Global Connections Speaker Series highlights business experts from around the world and the challenges and opportunities they have experienced as their careers have been enriched by forging relationships with multicultural and multinational organizations. It encourages student interaction with these professionals to enhance their understanding of the global business environment in which they may someday work.
The mission of the Lewis College of Business and its Brad D. Smith Schools of Business is to promote economic development in the regional community and beyond. We do this by implementing a set of strategic priorities, one of which is our priority for global connections.
Business is increasingly a global endeavor. More than ever, as organizations around the world adopt a cross-cultural global mind-set, it is important to recognize and nurture our global connections. The college engages in international connections, articulation programs, and formalized partnerships to introduce students to the social and cultural aspects of business activities in other countries. We firmly believe that global connections will enhance the college's ability to bring opportunities to the region. A global footprint and connections can improve enrollments, expand experiential learning, and increase alumni support and other sources. The college has already established and is nurturing partnerships with foreign universities. We host visiting scholars from universities around the globe and have sent faculty to teach full courses at Guizhou University of Finance and Economics (GUFE) in China. Another imitative is study abroad. The college had its first two study abroad trips, one to Ireland and one to Australia. While a recent study abroad was cancelled due to the coronavirus, we hope to have many more because these trips are life- changing experiences for students and strongly relate to the priority of building leadership skill sets and external engagement. The college's student international club is also an integral part of the college's global footprint.
We have developed this webinar series that will consist of at least one presentation with a prominent global business leader each semester to help students further their education and learning about global business.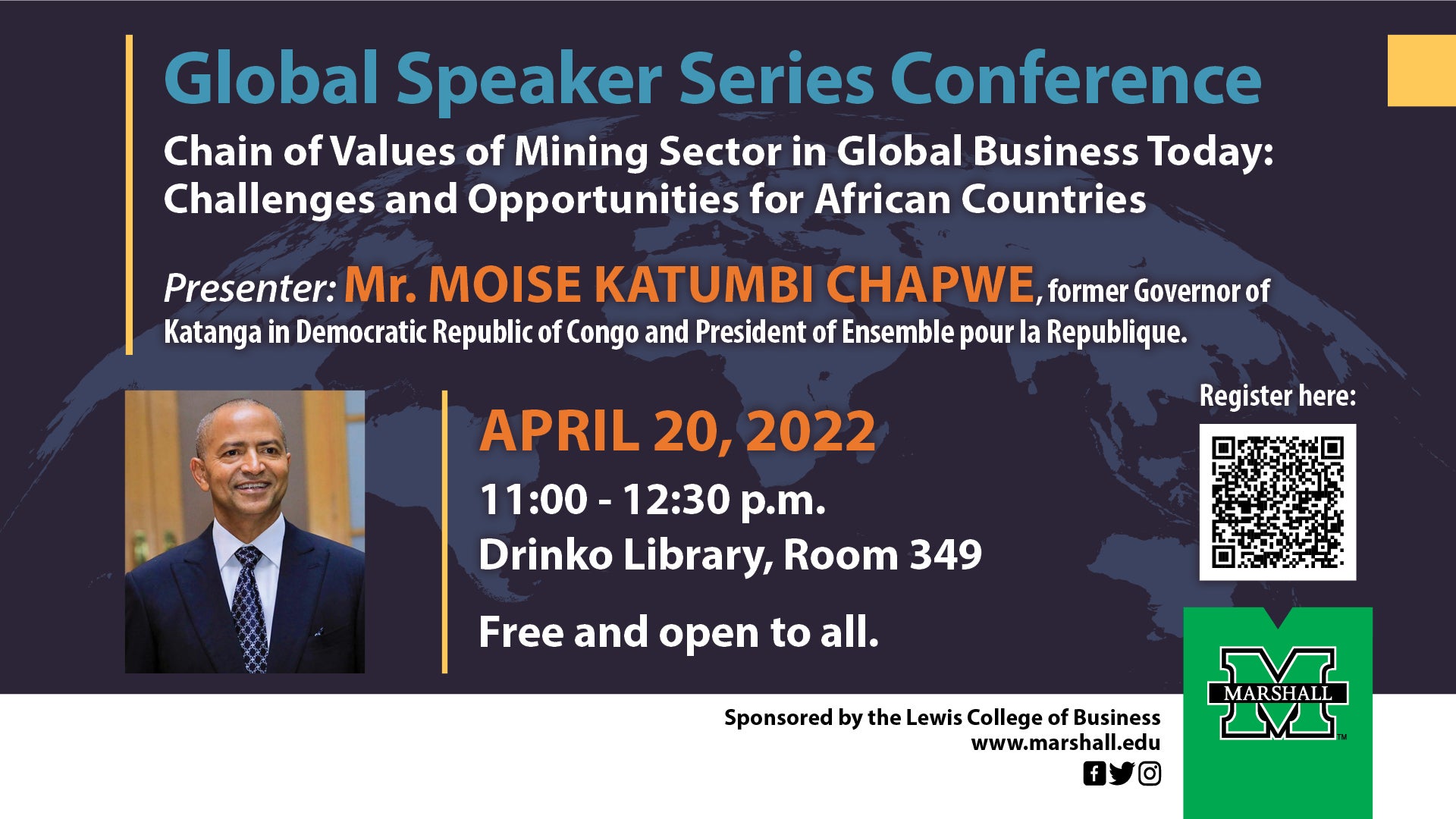 Title: Chain of Values of Mining Sector in Global Business Today: Challenges and Opportunities for African Countries
Presenter: Mr. Moise Katumbi Chapwe, former Governor of Katanga in Democratic Republic of Congo and President of Ensemble pour la Republique.
Moderator: Dr. Boniface Yemba
Date: April 20, 2022
Video: https://www.youtube.com/watch?v=6GKxvo8v6Xk
Title: Global Business Day
Hosted by: Diversity, Equity, and Inclusion Task Force and the Global and Multicultural Student Club
Date: Friday, November 19, 2021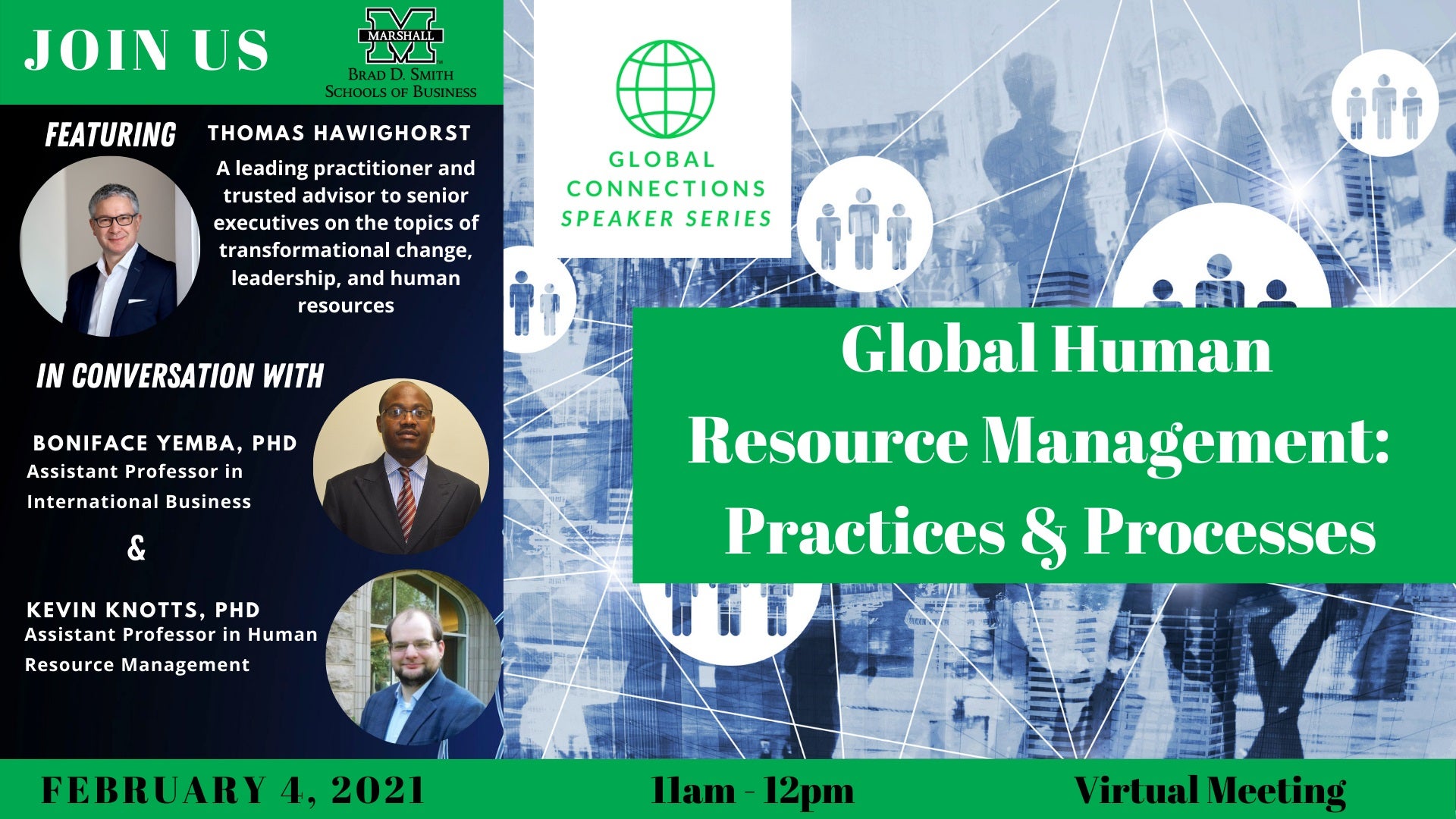 Title: Global Human Resource Management: Practices & Processes
Presenter: Thomas Hawighorst
Moderator: Dr. Boniface Yemba and Dr. Kevin Knotts
Date: Wednesday, February , 2021
Video: https://www.youtube.com/watch?v=VWx2QvZ1hlQ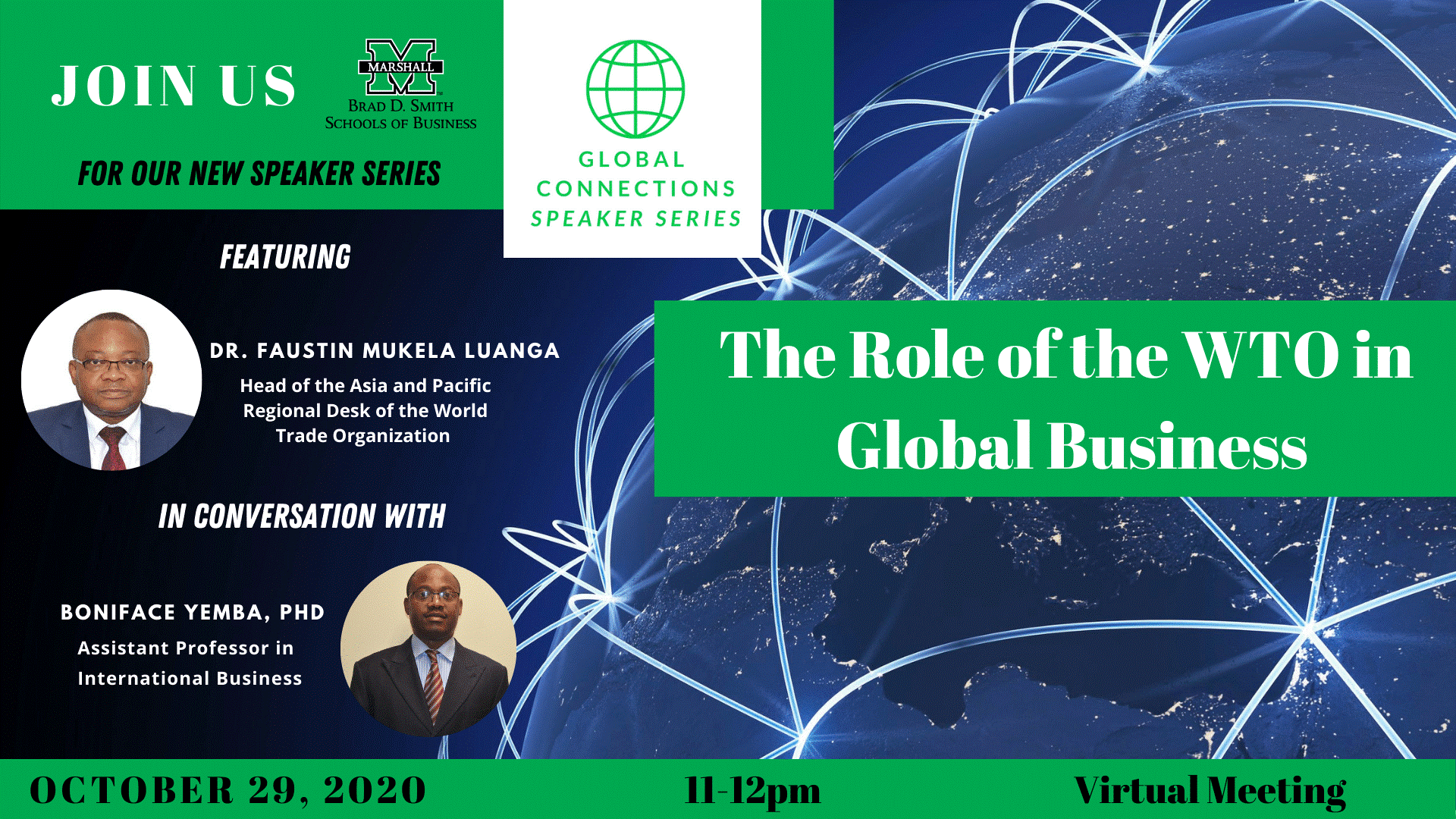 Title: The Role of the WTO in Global Business: Making trade work for business
Presenter: Dr. Mukela Faustin Luanga, Head of Asia and Pacific Desk at the World Trade Organization, Geneva, Switzerland
Moderator: Dr. Boniface Yemba
Date: Wednesday, October 21, 2020
Video: https://www.youtube.com/watch?v=fm_rOLs6deo
Dr. Luanga's presentation covered what the World Trade Organization (WTO) is, its challenges, what led to its creation, and its value to businesses. Dr. Luanga started his presentation by greeting students and saying, "Education is our best hope of building a better, more prosperous and more peaceful world for business to prosper. So, as the leaders of the future, I trust that you will use your time here well. While you study world affairs, you will have to come across several international organizations that form the global governance. And WTO is one of them." He explained how the WTO is the only global international organization dealing with the rules between nations. At its heart are the WTO agreements, negotiated and signed by the bulk of the world's trading nations and ratified in their parliaments. 164 counties and economies are members of the WTO. They represent about 98% of world trade. The goal of the WTO is to help the Business community, producers of goods and services, exporters, and importers to conduct their business. Dr. Lunaga mentioned some of the organizational challenges including how the WTO's negotiating arm, especially the Doha Development Round, has made slow progress and how the WTO has been the focus of some discontent — particularly in the form of anti-globalization protests which came to a head during the Seattle ministerial meeting in 1999.
Dr. Luanga stressed to students that, "It is no coincidence that as the rule of law in trade has spread, average tariffs have fallen dramatically. In fact, they have been cut in half. Average applied tariffs were 15 per cent in 1995. Today they stand at less than 8 per cent. And trade volumes have more than doubled and even more since 1945. This is supported by the essential day-to-day work of the WTO. This work often goes unseen — but I believe it is the key to the success of the system as it stands today."
He shared the results of the WTO Business Survey to show that most businesses are satisfied with the work of the WTO. Dr. Luanga then answered a series of questions by Dr. Boniface Yemba about the industries that have seen rapid growth in trade, new markets that need temporary trade protections, and trade negotiations between China and the US, and in countries such as Qatar.