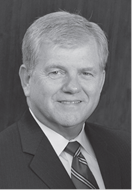 David Andrew Graley
David Andrew Graley was born to Andrew Jackson and Mildred Graley in Elizabeth, WV in 1949.  After selling their modest home in Wirt Co., the Graley family moved near Cross Lanes, WV.  David graduated from Nitro High School in 1967 and soon thereafter volunteered for the draft and spent two years in the US Army.  In 1972, in Tacoma, Washington, he entered the field of finance which he would make his life-long career.  He has three sons, David II, Matthew and Jonathan.  David was blessed in marriage to Marnie Lynne Lowe in 1997.
In 1975 David joined the First Huntington National Bank as manager of its charge card department.  He served in a variety of senior management roles including Senior Corporate Banking Manager for the State of WV.  First Huntington was succeeded by Bank One and JP Morgan Chase, and David focused his community involvement in Chamber and economic development activities.  During David's terms as Chair of the Huntington Area Development Council, he worked toward the goals of involving the business community with Marshall University and encouraging the development of "New Economy" jobs. He served on the Board of the MU Research Corporation, the MU College of Business Advisory Board and Forensic Science Advisory Committee.
For his efforts, he was honored as the Top Economic Development Volunteer in WV in 2004 and was declared a Distinguished West Virginian by Gov. Bob Wise.  He was later given a Commendation for Volunteer Service by Gov. Joe Manchin and was recognized as one of the top Economic Development Volunteers in the Southeastern US by Louisiana Gov. Kathleen Blanco.   David closed out his banking career in 2008 as President of the Huntington Region for Chase.  He then began a rewarding move to Cabell Huntington Hospital to raise funds for a Children's Hospital.  Since then, David has led a successful campaign, raising $12 million, and the Hoops Family Children's Hospital was "born." David continues to serve as Vice President and Chief Operating Officer of the Cabell Huntington Hospital Foundation.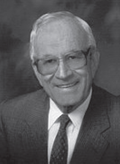 Clarence Frederick Shewey
Clarence Frederick Shewey (d. January 16, 2012) was born in War Eagle, W.Va., the son of Thomas A. and V. Mae Shewey. His family moved to Kermit when he was a little boy. He grew up in Kermit and attended public schools and graduated there. On July 16, 1938, he married Christine Akers with whom he had a happy and fruitful marriage. They raised two children, Bill and Bob. Fred and Christine were married for more than 69 years until her passing on October 11, 2007. Their marriage was uncommon because they loved each other so willingly and were the perfect fit.
Fred was an influential community and business leader in the Tug Valley region of West Virginia for many years. He was a major force in the state's natural resource industries, beginning in oil and gas and evolving into lumber and coal. He was one of the founders of Dash Coal Company, which grew into International Industries, Inc. He worked daily with his dear friend and business partner, James H. "Buck" Harless. In addition, he was owner and president of Grey Eagle Construction Company, Inc.
He was a member of the Kermit United Methodist Church and served on the Board of Directors of Inez Deposit Bank, Inez, Kentucky. At Marshall University, he was a member of the Fine & Performing Arts Gala and Annual Fund; a member of the President's Circle; the John Marshall Society; and an Emeritus member, Circle of Gold, of the Marshall University Foundation. He was a member of the International Oil and Gas Producers Association, the West Virginia Coal Association, Shriners International, Boy Scouts of America, Tug Valley Chamber of Commerce and many other civic organizations.
Fred received many awards throughout his life. He received the Distinguished West Virginia Award in 1996 and again in 2010. He is recognized and honored on the Pathway to Prominence Wall at Marshall University and the Fred and Christine Shewey Athletics Building at Marshall. Fred believed strongly in the value of education and served 18 years on the Mingo County Board of Education in West Virginia. He established scholarships at Marshall University and the University of Florida. He started the Shewey Research and Learning Center for the southern counties of West Virginia with an emphasis on serving Mingo County. He contributed to the new Mingo Central Comprehensive High School, and its wellness center bears his name. He enjoyed playing golf and hit a hole in one at the age of 74, a delightful moment upon which he fondly reflected.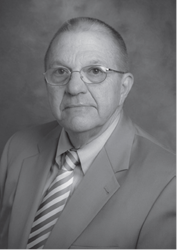 Louis S. Southworth, II.
Louis S. Southworth, II. is a Member of and practicing tax attorney with the law Firm of Jackson Kelly PLLC, where he is assigned to the Public Policy and Regulatory Affairs Practice Group, the Tax Practice Group and the Commercial Law Practice Group. Mr. Southworth joined the Firm in 1968 and focuses his law practice on administrative, business and commercial, business planning, leases, legislative services, mergers and acquisitions, securities and corporate law.
Mr. Southworth received a Bachelor of Arts from Marshall University (1965), a Juris Doctor from West Virginia University (1968) and an LL.M. in taxation from New York University School of Law (1970). A frequent lecturer at various tax seminars and meetings, Mr. Southworth is listed in Woodward/White's The Best Lawyers in America® (corporate law, tax law) and was named West Virginia Best Lawyers Corporate Lawyer of the Year for 2009. In addition, he has been published in the West Virginia Law Review and The Corporation Law Handbook – West Virginia Practice Handbook, among others.
Mr. Southworth presently serves as chairman of the Government Relations Committee of the West Virginia Chamber of Commerce. He heads up the Jackson Kelly Legislative Services Team in West Virginia. Mr. Southworth is actively involved with the American and West Virginia Bar Associations and is a Fellow of the American College of Tax Counsel. He is a trustee of many professional and civic associations and has served as a director of the Charleston Area Medical Center Foundation, the University of Charleston and the Clay Foundation. Since 1999, Mr. Southworth has served as a member of the Firm's Executive Committee, the governing body of Jackson Kelly and was elected as its Chairman in 2001 and continues to serve as such.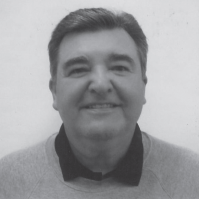 William Guy Spriggs
William Guy Spriggs was born in Ironton in 1952, graduated from Ironton High School in 1970 and Ohio State University in 1974 with a degree in finance. After being employed in the travel business and then selling insurance in Columbus he returned to join the family business in 1976 as a wine salesman at Spriggs Distributing Company established by his grandfather, Guy Spriggs, in 1933. He advanced to sales manager before moving to Ashland Kentucky in 1980 where he founded Eagle Distributing Company. Guy currently is chairman of the board for Spriggs Distributing in Ironton, Eagle Distributing in Ashland and Eagle Distributing in Huntington. In 2011 the three operations combined their management efforts and now operate under the name Triple Crown Beverage covering over 15 counties in the Tristate area with beer, wine, and energy drinks. Since joining the company in 1976, they have been recognized many times by all their suppliers for excellence. Anheuser Busch currently recognizes his three operations as top ambassadors nationally in their ambassadors of excellence program and in 2013 his Kentucky operation was 1 of only 6 Anheuser Busch wholesalers in the nation to have achieved a gold medal for the past three years in a row.
While working in the beer business Guy served on industry association boards in both Ohio and Kentucky.  He served on the National Beer Wholesalers PAC and management committees. He helped establish the employee PAC payroll program through the Ohio Beer Wholesalers Association in Ohio 1990 and the Malt Beverage Education Corporation in Kentucky in 1993, MBEC has a focus to fight underage drinking in Kentucky.
Following in his father's footsteps, Guy has spent many hours giving back to his community serving on the boards of the Paramount Art Center, Ashland Alliance, Ironton City Schools Foundation which was founded by his father, Ashland Salvation Army, Foundation Tristate, and is past president of the KDMC Health Foundation and Ramey Estep Home. He served as chairman of the capital campaigns for Ashland Community College, Ohio University Ironton branch and Kentucky Highlands Museum. In 2003 he was awarded the Foundation Tristate community service award and in 2004 the Appalachian regional commission award for philanthropy. In 2003 he was recognized by US Congress with Angels of Adoption award for his work at the Ramey Estep home.
In 1996 he established the Guy Spriggs Charitable Trust which has supported scholarships at Marshall, O.U .Ironton, ACTCS in Ashland and Shawnee State for the children of police and fire fighters as well as numerous local charities with annual donations of over $250,000. In 2012 ACTCS named their child development center for Guy and Lisa in recognition of their giving history and commitment to education.
Currently Guy and his wife, Lisa, reside in South Carolina where Guy serves on the Spartanburg Methodist College board of trustees, is a trustee for the Phi Kappa Psi National Endowment Fund and serves on the Guy and Lisa Spriggs Family Foundation.
Guy enjoys golfing, cooking and traveling when not maintaining his farm in SC. He is the father of 4 grown children, 2 of which are currently working on doctorate degrees and one is in the family business.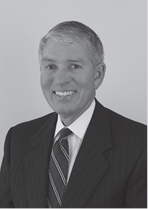 Charles H. Wendell
Charles H. Wendell, age 64 is a Certified Public Accountant with a variety of real estate and business experience. Mr. Wendell has held principal positions in the coal, construction, hotel, and real estate fields since 1976.  Currently, he is the CEO of hotel entities that have developed twenty properties in the middle Atlantic and southern states, including Hampton Inns, Courtyards by Marriott, Residence Inns by Marriott, Fairfield Inn, Homewood Suites by Hilton, Holiday Inns, etc. In 1994, he was responsible for marketing, structuring, negotiating, and closing the sale of seven properties to Equity Inns, Inc. at a price of $39,500,000.
Mr. Wendell is also the financial partner of a wide array of real estate entities.  He is responsible for the company's financing, legal issues, and is responsible for the development and acquisition activities of these companies.
His commercial real estate experience includes the leasing and/or development of dozens of properties through development, construction and/or purchase of such properties in Florida, Georgia, South Carolina, North Carolina, Virginia, West Virginia and Pennsylvania.
Mr. Wendell has served as the Chair of the Board of Trustees of Porter-Gaud School, a 940 student Co-ed private institution in Charleston, SC.  Mr. Wendell graduated with honors from Marshall University in 1970 and became a CPA in 1972.  He and his wife Kay have been married for 42 years and have two sons Preston, a MD, practicing in Mt. Pleasant, SC and Stephen, an Attorney, practicing in New York, NY.  They reside in Charleston, South Carolina and Fayetteville, West Virginia.