The Lewis College of Business is a proud member of the AACSB's PhD project. The PhD Project was founded on the premise that advancements in workplace diversity could be propelled forward by increasing the diversity of business school faculty. Today, The PhD Project's expansive network of supporters helps African Americans, Hispanic Americans, and Native Americans attain their business PhD, and become the professors who will mentor the next generation of leaders.
Since its inception, The PhD Project has been responsible for the increase in the number of African Americans, Hispanic Americans and Native Americans earning a business PhD from 294 to 1,517, of whom 1,303 are teaching in U.S. colleges and universities today. There are close to 300 underrepresented minorities currently enrolled in doctoral programs, who will take their place at the front of the classroom over the next few years.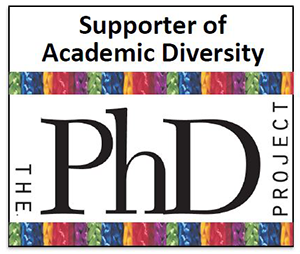 Click here for the latest news about the PhD project.
Click here to read "How to Address the Lack of Diversity in our Nation's Business Schools."
Click here for the PhD Project website.