Dear students,
Your success is our business. It is our commitment. It is personal!
Starting a Successful Career
Thousands of students like you choose a business school for a successful, rewarding career. The Lewis College of Business at Marshall University will help you get ready for such a career.
Working with employers, our newly established Center for Stakeholder Engagement helps students find quality internships and jobs.
Our Professional Enrichment Program helps you learn career-related issues and skills such as communication, teamwork, time management, and how to write a resume and prepare for an interview.
You have plenty of opportunities to meet and network with alumni, business leaders and professionals.
Getting a Helping Hand
As a business major, you receive excellent advice from our award-winning Academic Advisory Center.
You interact with talented and caring faculty who are fully committed to help you succeed through experiential learning, IT-enabled learning and professional enrichment activities.
You can join many student clubs and organizations that help you develop interpersonal skills and build a strong character and friendships.
Gaining a Global Perspective
We provide students with a broad global perspective and in-depth understanding of the economically interconnected and culturally diversified world.
Marshall University has hundreds of international students. The establishment of INTO Marshall will bring thousands more to campus.
Our study abroad program helps you gain an immersion experience with the outside world.
Joining the Marshall Family
The Lewis College of Business is blessed by the strong support from its alumni and friends. They are actively involved in our programs. When graduating, you will join more than 210,000 alumni including 12,000 from Lewis College of Business all over the world.
Choosing an AACSB Accredited School
The Lewis College of Business is considered one of the best in the world because it is accredited by the Association to Advance Collegiate Schools of Business (AACSB). Currently, only 1% of the world's 13,000 business programs are accredited by AACSBfor both of their business and accounting programs. Lewis College of Business at Marshall belongs to this group.
In closing, I encourage you to talk to our students, faculty, staff and alumni. You will find them warm, enthusiastic, and energetic. I would also like to invite you to visit us on campus. You will find our environment positive, supportive and inviting. We warmly welcome you to the Marshall family.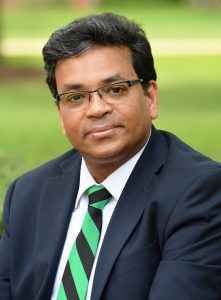 Dr. Avinandan Mukherjee
Dean, Lewis College of Business