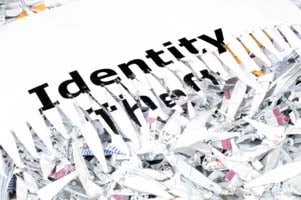 Q: What is identity theft?

A: Identity Theft occurs when someone uses your personal information like your name, Social Security number, or credit card number, without your permission, for fraudulent or other unlawful purposes. The unlawful gathering of personal identifying information (data theft) does not necessarily mean that identity theft has occurred. Identity theft occurs only if stolen identity is used to commit fraud or other crimes. Victims of all types of identity theft spend hours of their time resolving the various problems that result from theft. A Federal Trade Commission (FTC) survey of Identity Theft showed that "the median value of goods and services obtained by identity thieves for all categories of identity theft was $500." 10% of victims reported that the thief obtained $6,000 or more, while 5% reported that the thief obtained at least $13,000 in goods and services. The median value for the number of hours spent resolving problems by all victims was 4, however, 10% of all victims spent at least 55 hours resolving their problems. The top 5% of victims spent at least 130 hours. It is important to protect personal information. Your Social Security number, driver's license, passport, bank account numbers, personal checks, credit card numbers– is the key to your identity.

Q: How does identity theft happen?

A: Here are just a few ways your identity might be stolen:

Phishing – tricking individuals into disclosing sensitive personal information through deceptive computer-based means such as email.
Shoulder Surfing – using observation techniques to get information. For example, looking over someone's shoulder to see credit card number or password, or listening to a conversation when a credit card number is given to another person over the phone or in person.
Dumpster Diving – going through one's trash looking for bills, credit cards, bank statements, social security number and other sensitive personal information.
Skimming – stealing credit or debit card numbers by using a special storage device when processing your card.
Old-Fashioned theft – stealing wallets, purses or stealing credit card and bank statements or personal checks from mailboxes.
Change of Address– filling out a change of address form that redirects credit card or bank statements to a different address.

Q: How do I prevent identity theft?

A: Minimize your risk of becoming a victim of identity theft by doing following things:

Do not carry your Social Security card or other cards that show your SSN, unless it is absolutely necessary. Carry with you only the ID and cards you need at any given time. Never write your Social Security number or credit card numbers on checks.
Do not give out your personal information over the phone, via email or over the Internet without verifying their identity
Discontinue delivery of your postal mail while out of town or make sure someone you trust collects your mail in your absence. Do not leave outgoing mail in your home mailbox.
Shred or destroy financial documents and papers containing your personal information including credit card bills and credit card offers that you no longer need.
Check your bills and financial statements carefully for any charges or withdrawals you did not make and report them immediately. Check if bills do not arrive on time.
Check your credit reports periodically for changed addresses and unauthorized charges. The law requires the major nationwide consumer reporting companies—Equifax, Experian, and TransUnion—to give you a free copy of your credit report each year if you ask for it. You may also request your free credit reports at www.annualcreditreport.com or by calling (877) 322-8228.
Do not sign the back of your credit cards. Instead put "PHOTO ID REQUIRED".
While making a purchase in store, never look away while your credit/debit card is being processed. Always take your receipts after making a purchase.
Shield the viewing screen or keypad so that others cannot read your Personal Identification Number (PIN) when using an ATM.
Stop mail solicitations of pre-approved credit offers by removing your name from credit bureau marketing lists at www.optoutprescreen.com or by calling (888) 5OPTOUT.
Protect personal information on your computer by following these best practices:

Use strong and long passwords. Don't use an obvious password like your birth date, your mother's maiden name, or the last four digits of your Social Security number. Memorize your passwords instead of recording them on paper or computer
Use firewall, anti-virus, and anti-spyware software that you update regularly.
Download software from only sites you know and trust, and only after reading all the terms and conditions.
Do not click on links in pop-up windows or in spam e-mail.

When shopping online, only enter personal information on secure web pages that encrypt your data while in transit. You can tell if a page is secure if its URL (web address) has "https" or if there is a padlock icon on the browser window.

Q: What do I do if my identity is stolen?

A: Here are the steps that you should take as soon as you suspect you are the victim of the identity theft: Report Fraud Alert to the three credit bureaus. These three nationwide consumer reporting companies have toll-free numbers for placing an initial 90-day fraud alert; usually a call to one company is sufficient, but you can report it to all three. Placing a fraud alert helps stop an identity thief from opening new accounts in your name and entitles you to free copies of your credit reports. You will be able to check for inquiries from companies you haven't contacted, accounts you didn't open, and debts on your accounts that you can't explain. As a victim of identity theft, you will not be charged for these reports.

Equifax: 1-800-525-6285 P.O. Box 740241 Atlanta, GA 30374 http://www.equifax.com/ Experian: 1-888-397-3742 P.O. Box 9532 Allen, TX 75013 http://www.experian.com/ TransUnion: 1-800-680-7289 P.O. Box 6790 Fullerton, CA 92834 http://www.transunion.com/

Contact the Federal Trade Commission (FTC). FTC is responsible for receiving and processing complaints from victims of identity theft, providing information to those people, and referring those complaints to appropriate entities, including the major credit reporting agencies and law enforcement agencies. Your report also helps law enforcement officials across the country investigate identity theft cases.

Federal Trade Commission: 1-877-438-4338 or 202-326-2502. Consumer Response Center, FTC 600 Pennsylvania Avenue, N.W. Washington, DC 20580 http://www.ftc.gov/

Contact creditors and close any accounts that have been tampered with or established fraudulently. Call each company where an account was opened or changed without your authorization. Request verification that the disputed account has been closed and the fraudulent debts discharged. Keep copies of documents and records of your conversations about the case. File a report with local law enforcement or your local office of the FBI or the U.S. Secret Service to report crimes relating to identity theft and fraud. Ask the police to issue a police report of identity theft. Request to get a copy of your police report. This might be needed for creditors and the credit bureaus. Keep a record of all communications with credit bureaus, creditors, financial institutions, and police, including dates.

Q: Where can I learn more about identity theft?