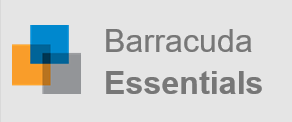 Marshall University Information Technology applied a major upgrade to the email firewall service, called Barracuda Essentials, in May 2019. Barracuda Essentials provides advanced protection against fraudulent email for both Faculty/Staff email (on-premise Exchange) and Student email (Office365). It also provides security for outgoing mail to external sources, assisting in the discovery and remediation of internal, compromised accounts. MUNet account-holders can access a self-service interface in order to view and search for messages that have been blocked or quarantined.
Check below for answers to some of the most Frequently Asked Questions regarding email security:
What do the new Quarantine Notifications look like?
How can I view my Quarantined messages?
How can I edit my Whitelist and Blacklist?
Am I required to create or edit the Whitelist/Blacklist settings?
Why would I need to edit my Whitelist/Blacklist settings?
Can I view my Blocked messages?
What's the difference between quarantined emails and blocked emails?
Can I turn off or change the frequency of my Quarantine Notifications?
Are emails I send filtered through Barracuda Essentials?
How do I send an encrypted email?