Threats from phishing scams, malicious software, and compromised passwords are constantly increasing and pose an immediate risk to your privacy and the security of University data. Marshall University has implemented a new Multi-Factor Authentication (MFA) system that is required for all active accountholders.  When accessing a MFA-protected service, you will be prompted to enter your MUNet username and password and authenticate the login process with multi-factor authentication.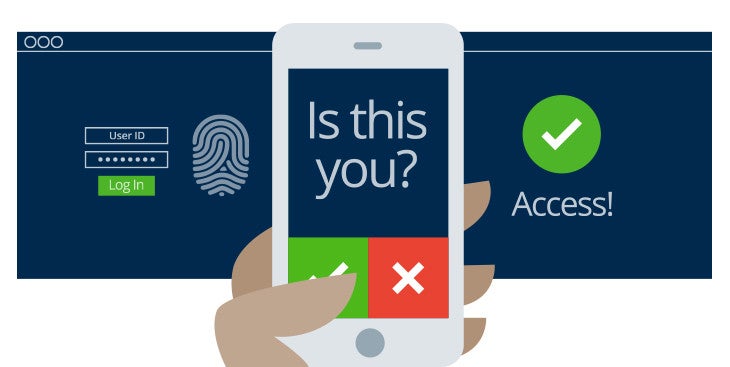 Instructions:
Before enrolling in Multi-Factor Authentication, you must first read the getting started instructions at the link below. 
Multi-Factor Authentication setup instructions for your Marshall University account are available here:
Multi-Factor Authentication: Getting Started Instructions
The best and most convenient way to use Multi-Factor Authentication, is to download the Microsoft Authenticator app from either the App Store for iPhones or the Google Play Store for Androids.
You will look for this icon on both platforms. To download, follow the link to your respective app store provided below:
What is it?
MFA adds another layer of security to your online accounts
Requires "two factor authentication" (2FA) to verify your identity when you log in to a service by:

something you know (such as your password)
something only you have (such as your mobile phone, on which you will receive a login confirmation notice via text or phone call)
Why should I do it?
Provides enhanced protection of student and employee data caused by account credential compromise.
Increasingly, hackers have targeted higher education institutions by using hacked credentials:

to file taxes for employees
to tamper with employee payroll deposits
to attempt fraudulent access to student and employee's bank accounts
to  harvest Social Security numbers for use in credit fraud
What are the benefits?
Multi-factor authentication (MFA) is an effective way of stopping fraudulent account access by notifying you and requiring you to approve usage of your account
MFA is essential to help safeguard access to critical systems
MFA provides much stronger assurance that your information is only accessible to the intended people, and that MU's systems and services remain available only to authorized account holders
Multi Factor Authentication FAQ
What Marshall IT services will use MFA?
How often do I need to use MFA?
What methods can I use to Authenticate?
Do I need a smartphone to use MFA?
Is the mobile app required?
How do I configure the mobile app?
What is a one-time security code? How does it differ from a password?
Why do I need to use an alternative verification method?
Can I use my Marshall University office phone as a verification method?
I lost or replaced my device. How do I ensure notifications do not continue to go to my old device?
What if I don't have access to WiFi or cellular service?
What is an OATH hardware token?
Do I have to pay for an OATH hardware token?
How can I disable an OATH token?
Why am I not prompted for MFA when I login to my email account?
Why am I not receiving push-notifications on my Authenticator App?
What if I have my @marshall.edu e-mail forwarded to another third-party e-mail service (e.g. Gmail.com), do I still need to enable MFA to receive e-mail?
What are my options if I have an e-mail client on my computer that does not support MFA?