Best Buy
Save on select devices by signing up for Student Deals.
Dell
Sign up for a membership and receive additional deals with free Dell Advantage Rewards membership.
Visit dell.com/rewards to join. Get great financing with a Dell Preferred Account.
Apple
Apple Educational pricing, trade-ins, and more! Download Apple Music (Student) for only $4.99 a month with a 3-month free trial.
Lenovo
Save on select personal devices,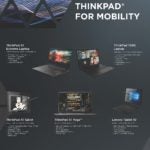 Lenovo ThinkPad P1 Product Tour
Lenovo ThinkPad P1 for Engineering and Design Students Clip