Grammarly for Education is available starting in Fall 2022 for all Marshall students including both undergraduate and graduate students. To learn more about Grammarly, visit https://www.grammarly.com/about.
On this page, you can learn:
Grammarly's writing assistant software can help you improve and proofread your writing in papers, emails, Blackboard, theses/dissertations, and almost all other settings. It can also help faculty who teach courses that involve writing by providing another source of assistance to students and analyzing student usage.
Tips to get the most out of Grammarly
Grammarly is an assistant, not a manager. Think about each suggestion in context. You will immediately see that some suggestions are correct. Others require more consideration. No writing assistant can match the understanding of a human author, and Grammarly will occasionally make suggestions that don't fit your writing goals.
The
Learn More
feature appears for many suggestions. Use this to see a detailed explanation of the reason behind the suggestion. Example screenshot: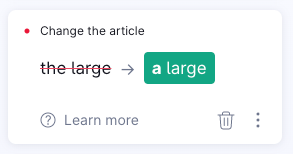 Use the Dismiss icon (often a trash can) to tell Grammarly you have rejected a suggestion. Over time, Grammarly can adjust its personal recommendations for you based this feedback.
Within Grammarly, use the Set Goals feature to choose the Audience, Formality, Domain, and Intent of your writing. This helps Grammarly customize its suggestions based on the kind of writing you want to produce.

Students: How to access Grammarly
Visit https://myapps.microsoft.com with a web browser.
Log in with your Marshall credentials, if requested.
At the myapps.microsoft.com site, under "My Apps", look for the Grammarly logo. Screenshot:

This will take you to the Grammarly web editor. You can edit documents using this site, or install Grammarly on your personal device.
To install Grammarly, use the "Apps" link on the left side of the page. You can install Grammarly for your operating system, web browser, Microsoft Word, and iPhone or Android phone. You can choose which apps to install, and don't have to install all of them. You can install the apps on multiple devices, as long as you log in to Grammarly with your Marshall account when requested. Screenshot: