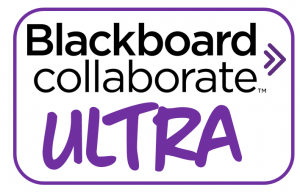 As of June 2, 2021
Marshall's contract with Blackboard Collaborate Ultra will not be renewed after July 1, 2021. Identified users who have engaged as a moderator during this summer so far have been notified. All summer courses will have access to the Collaborate tool through the end of all summer terms.
Important: 
All Collaborate recordings will be deleted on June 30, 2021, even the recordings you have created so far this summer, and any previous live course session recordings. 
If you have any recordings that you wish to keep, you must download the recordings and save them in an area of your choice (instructions linked in this email).
If you used Collaborate to record lectures that you wish to re-use, make sure there are no students in the recording. Recordings cannot be used if there are students from a previous course section in the recorded session videos (due to federal privacy laws that ensure no identifiable student information can be gained in a different course).
If you have recorded sessions from this summer, you must download and save those recordings for your class if you want them to have continued access to those recordings during the term (See the Saving and Sharing Collaborate Videos pdf linked in this email for options and instructions for sharing the saved recordings).
Since storage costs have been soaring, we have a very limited amount of Collaborate storage for July and August and we ask that you only record after July 1 if it is necessary. Instructional Designers are happy to help you figure out an appropriate alternative to lecture capturing (without students present) if you use this as part of Collaborate now. You can continue to use Collaborate in summer terms to deliver virtual class.
Downloading and saving Collaborate sessions does take some time so please do not wait until later in the month to get started.
Instructions: 
Downloading recordings and re-uploading them to share with students (if you have recorded lectures you still want to use):
https://www.marshall.edu/design-center/files/2021/05/Saving-and-Sharing-Collaborate-Videos.pdf
Training: 
There is information on the Online Ready webpage that can help you get started with Teams:
http://www.marshall.edu/design-center/online-ready/
*We will be offering a Blackboard course for Teams training where you can work at your own pace and attain a certificate of completion to add to your P&T documents. We will also be adding live Teams training this summer. The dates of those trainings are not set yet, but will be announced via email and university communications.
Frequently Asked Questions: 
Why was the decision made to end the Collaborate contract? 
There are multiple reasons why the decision was made to end our Collaborate contract. After receiving student feedback after a year of virtual learning, the students want to standardize the virtual classroom offerings so they are not moving back and forth between tools. Academic Affairs, including the Provost and President, asked the University Technology Advisory Committee to compare virtual course tools and review duplications. We have the complete suite of Microsoft 365 tools, which includes Teams, and is already paid for. Additionally, Blackboard updated their pricing model for Collaborate, which would have made storage and tool costs above an appropriate price point.
Will this affect non-summer courses? 
Yes, ALL Collaborate recordings will be deleted on June 30. Therefore, faculty must go through each of their course sections, previously live courses, and determine what recorded sessions they wish to keep. An announcement was sent to all Deans on June 2, 2021, and a follow-up email will come to all faculty soon.  Starting with the Fall 2021 class sections, the Collaborate tool link will no longer be available.
How can I learn Teams Meetings after just learning Collaborate? 
We can help with this! We will be offering scheduled live Teams training, self-paced training on Blackboard, as well as individual/group/department training as requested.
Who can I contact for Teams training? 
Please contact chris.sochor@marshall.edu if you wish to schedule a Teams training for your department or as an individual.
Can I share this information with other faculty? 
Please do! As you know, it takes a while to disseminate information across campus, and many faculty are on summer break and not anticipating any action in their Blackboard courses at this time. If you would like to assist in spreading awareness of this change, we welcome the assistance.
If you have any questions, concerns, or would like assistance, please do not hesitate to contact our group of Instructional Designers at onlinelearning@marshall.edu.
If you would like to note a technical issue, please email our IT Service Desk: 
itservicedesk@marshall.edu
If you are a student and you have technical difficulties, please also contact the IT Service Desk: 
itservicedesk@marshall.edu