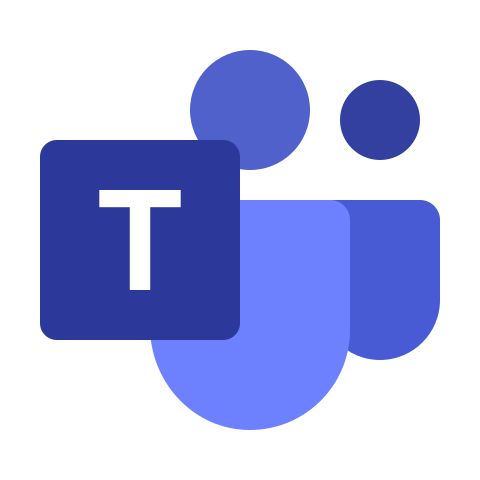 Microsoft Teams is a workspace for real-time collaboration and communication, meetings, file and app sharing, and more. Teams is fully integrated with Microsoft Office 365 and helps your teams work more effectively and efficiently.
Who can use it?
Teams is available for free for all Marshall students, faculty and staff as part of the Office365 Suite.
Features and benefits
Create Teams and channels for tracking projects, conversations, files, and meetings
Chat with text, audio, video, and file sharing; leave email for more important tasks
Store and share all your files, docs, and more in one place, securely in the cloud
Edit directly in Teams and collect feedback in the comment section
Schedule meetings that automatically integrate with your existing Outlook calendar
Meet with up to 250 people at the same time
Share your desktop, applications, or a whiteboard during meetings
Schedule meetings that will record and automatically upload to the team space
Presence indication based on each person's Teams activity, manual status settings, and Outlook calendar
Integrate your favorite apps—Planner, Trello, OneNote, Sharepoint, and many more
Using Microsoft Teams & Training
Most MU office telephones (with the exception of some School of Medicine phones) are based on Skype for Business. Skype for Business allows your office phone to be anywhere you are as long as you have a good Internet connection and the proper computing device and software. Office 365 provides you with a Skype for Business client that can be installed on any Windows PC, Macintosh, SmartPhone/Tablet (Apple iOS or Android), and can even be used in a Chrome Web Browser.
Since our move to Skype for Business five years ago, employees have also been able to arrange meetings, including audio, video, and screen sharing with the Skype for Business client. Information Technology planned migration to the newest version of Skype for Business, Microsoft Teams, during the next fiscal year as it provides improved features and more bandwidth efficient multi-party conferencing for group meetings. We have accelerated this move to Teams for Meetings due to anticipated demand for remote meetings during the COVID-19 crisis.
You will continue to use Skype for Business to place and receive calls both on- and off-campus using the Skype for Business application, but for those times when you are meeting with multiple individuals you will now be able to use Microsoft Teams. We have been piloting Teams with a group of about 200 campus users for the past year and feel it is the best option for the increased demand for campus meetings during this crisis.

Any actively enrolled student or currently employed staff or faculty member can create their own Teams. To get started:
Download Teams for your desktop, iOS, or Android, or just use Teams on the web at https://teams.microsoft.com.
Sign in with your @marshall.edu email and then you'll be redirected to our single sign-on for your MUNet username and password.
Teams resources from Microsoft:
These updated instructions use the New Meeting Experience. Note that the classic single-window version of Microsoft Teams is shown in the video above.
Use or create a Team that includes all members that will participate in the main meeting session and the smaller group breakout sessions.
The Team's General channel may be used for the main meeting session. Or you can create a Main Session channel, as shown in the video above.
Create channels for each group's breakout session. For example, you could create Team A and Team B as channels, described in the video. But you may want to give clear, meaningful names to the channels.
If attendees shouldn't self-select their group breakout session, use private channels.
You will need to add specific attendees as members of each private channel.
For private channels, you cannot schedule or record meetings.
Setting up Channel Meetings for Breakout Sessions
From each breakout session channel, select the Meet Now meeting icon.Join the meeting. Upon joining, a conversation is added to the channel with a Join button for channel participants.
For standard, non-private channels, all members in the Team can join, but the meetings are specific to the channel.
When the breakout meetings have started, attendees may join via the channel, using the conversation with the Join button.
Switching Among Meetings
In the New Meeting Experience, multiple meetings appear in separate Teams windows. You can join up to four meetings at once. You can only participate in one of those four meetings. Three of your four meetings will have you on hold.
As you switch meetings, the original meeting will be placed on hold for you. (Participants in that breakout meeting continue without you.)
Note that when Iggy the Golden Eagle joined the Team B breakout meeting, the Team A breakout meeting was placed on hold in a separate window. You can quickly move from meeting to meeting by switching windows and selecting the Resume button.The image below shows Iggy the Golden Eagle in the Team B meeting and switching windows to the on-hold Team A meeting. Upon selecting the Resume button, Iggy joins the Team A meeting, then the Team B meeting is on hold for Iggy.
Questions?
Please contact the IT Services Help Desk for questions about Microsoft Teams