VPN
Update 3/31/2021:  In Support of the University's Return to Campus plan, MUIT has reverted the VPN security group to an as-requested basis. After 3/31/2021, only those MUNet accounts who have previously authenticated to VPN services in the past 180 days will remain.  VPN access still requires two-factor authentication (MFA).
The Virtual Private Network (VPN) service provides Marshall University Students, Staff, and Faculty a method for securely connecting back to the Marshall University Network (MUNet) over a commodity network such as the Internet or Internet2.
By connecting to the VPN from off-campus you will be able to access non-Internet accessible campus services and resources as if you were on campus. These services include:
Banner-related services not available thru myMU (e.g. Banner Production and Pre-prod environments)
MUBERT (Banner Extraction and Reporting Tool)
Network Shares
Internal SharePoint sites
Remote Desktop Access to a computer or server
Others – if a network or online resource is only available to you when you are on campus, then use of the MUVPN access will be needed to access this resource when working remotely. Please make sure you are connecting using vpn.marshall.edu in the connect box when using the VPN tool. Contact your department IT service provider or the IT Service Desk if you have questions about whether specific services resources are available via the MUVPN service.
MUVPN access is NOT required for the following Internet-facing and SSL-secured services:
Office 365, OneDrive, SharePointOnline, Outlook e-mail client and Outlook Web Access to Exchange
Remote App and Desktop Connection Terminal Server access via https://www.marshall.edu/it/muremote
Marshall University myMU Web Portal
MU-Online Blackboard resources
Most Internet-facing, web-based applications and services
New GlobalProtect VPN Instructions
On
Wednesday, September 30th, 2020
, Marshall University will make an important change to the campus virtual private networking (VPN) service. If you use the Marshall VPN service, please read the following to ensure your continued ability to use VPN services after September 30th, 2020.
The Marshall University VPN service is integrated with our campus network firewall. In early August, Information Technology engineers upgraded the firewall service onto new hardware. Additional steps are needed to migrate VPN services to the new hardware.
What do you need to do?
Your cooperation is needed to install updated VPN client software. The new software package is called Palo Alto GlobalProtect. Once installed and successfully connected, you can safely uninstall the previous Cisco AnyConnect software from your computer.
Mobile device users (iOS and Android) PLEASE NOTE:  VPN will only work in conjunction with the Microsoft Authentication app.  SMS messaging for Multi-Factor Authentication (MFA) will not work.

To begin using the VPN service you will first need to install the Palo Alto GlobalProtect VPN client software.
Download this software from the GlobalProtect Portal at https://vpn.marshall.edu.  Choose the appropriate file to download.
Once downloaded, click on the file in your download tray and follow the steps by clicking "Next" and allow the program to make the necessary changes to finish the installation.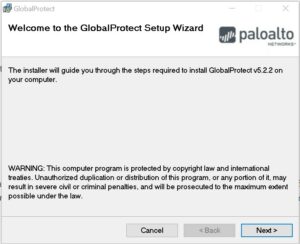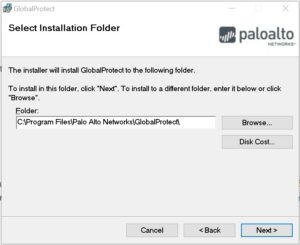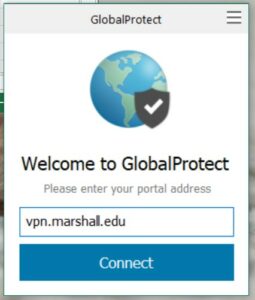 Once installed the GlobalProtect client will auto launch and you will enter "vpn.marshall.edu" as the portal address to Connect.
Once connected, a blue globe with the check mark symbol will appear in your system tray.
Global Protect VPN Installation instructions for Windows  (PDF – Windows Instructions)
Global Protect VPN Installation instructions for MacOS  (PDF – MacOS Instructions)
Global Protect VPN Installation instructions for iOS (PDF – iOS Instructions)
Global Protect VPN Installation instructions for Android  (PDF – Android Instructions)
Access to VPN services is granted upon request to current employees and registered students. Contact the IT Service Desk to request your MUNet account be added to the appropriate Active Directory access group. (Note: As part of University COVID-19 response, all Marshall employees and currently registered students are automatically included in the authorized VPN users group.)
If you do not regularly use the MUVPN services, or if you have a new MUNet account, simply contact the IT Service Desk via WebChat, via e-mail itservicedesk@marshall.edu, or phone 304-696-3200 to request your account added to the managed security group. The IT Service Desk will validate enrollment for students and employment status for employees.
Requests for VPN Access for Affiliates, Contractors and Guests of the University will be granted upon written request submitted by a responsible academic or business unit. Request should include whether a new MUNet account is needed, the academic or business purpose for the access, and the length of time which VPN access is needed.
For additional information on obtaining a MUNet account or if you have trouble obtaining the client contact the IT Service Desk at 304-696-3200 or itservicedesk@marshall.edu.
Note: This service is only available from off-campus.